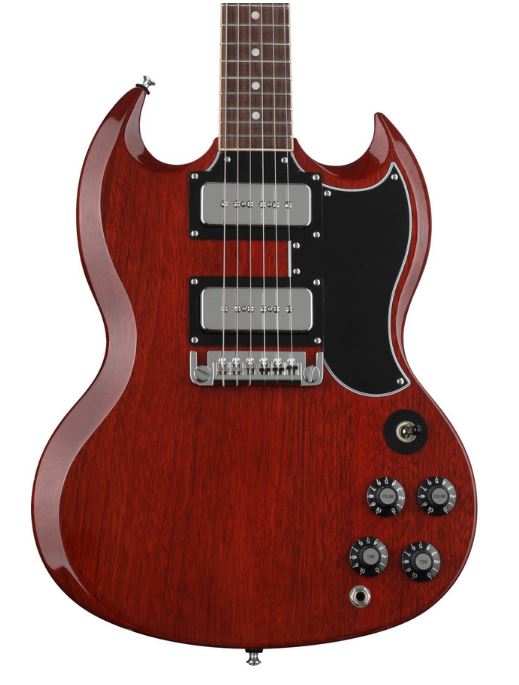 "A Heavy Riff Machine Tony Iommi's iconic riffs, heavy tones, and massively influential albums created the blueprint for heavy metal and many other genres to follow. His career, like the man himself, is universally loved and revered. And while his innovative tuning and playing styles were a major part of his monstrous tones, a heavily-modified 1964 Gibson SG was at the center of it all. Now Gibson USA has made a guitar based on the iconic original that launched countless heavy riffs, with a mahogany body, bound mahogany neck with a rounded profile, Indian rosewood fretboard with 22 frets, a Graph Tech® nut, Grover® Rotomatic® tuners with contemporary style buttons, and chrome-covered P-90 pickups. A reproduction of Tony's "Monkey" sticker is included in the case, along with two longer intonation adjustment screws in case you need additional adjustment range. A left-handed version is also available."
------------------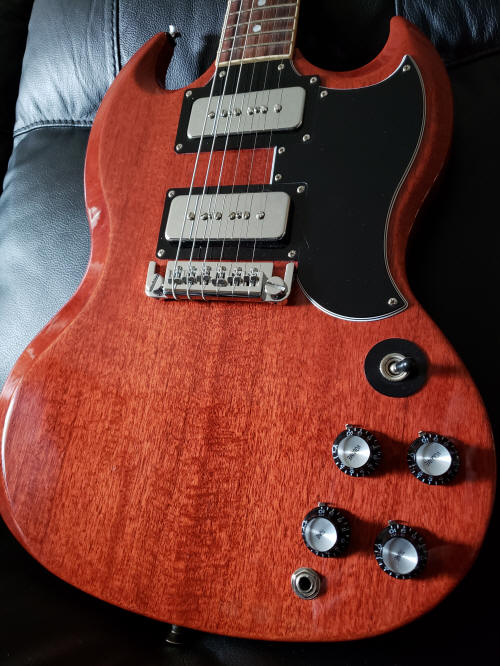 Why I have this is I really wanted an SG Special, which was going to be a Happy Birthday to Me since that birthday ended in a 0. I am a huge Tony Iommi fan as well (I bought Forbidden the day it came out) but that's not why I bought the guitar. I used to have an SG Classic that I wished I didn't let go of. It happens. I thought I could replace the Classic by getting an Epiphone SG 61 Special. As cool as those look in white and TV yellow, the neck shape sinks it for me. I really don't like the D Shape necks. As far as the current USA Specials go, the pickups are in the wrong spot. What makes a Special special is its pickup placement and that's why no other guitar sounds like it. I did debate whether to splurge on a Custom Shop SG Special before I bought this but it's a big chunk of change. As much as I love guitars, I couldn't justify paying that. So when I saw Gibson was making these Iommi Specials, I thought I could finally get a Special and not have to pay a premium for someone to age the hardware on a $4500 guitar. Also, the Tony Iommi Special comes with an intonatable bridge - one less thing to replace. Well, we'll get to that in a bit. Structurally, the guitar is an Original Collection Junior, only the wood grain, at least on mine, is way nicer than my
Junior
. Actually, it's way nicer than many other Iommi Specials I've seen online. There aren't any dark vertical streaks on mine and mine looks like it has a faux-bookmatch at the seam. The finish is slighlty lighter cherry than my
Junior
, which is lighter than my
SG3
. The bevels and neck join is the same as my
SG Junior
(current
SG Standards
have a different neck join). Fortunately, this comes with a rounded neck, but I think a Custom Shop Special does as well. I didn't like the strap button on the horn. I just didn't trust it since there's not a lot of wood there. The Standards might be better for a stap button on the horn since they're shaped differently than this one (new Standard's horns don't taper to a point). And I am used to an SG's normal strap button placement. I had a strap button installed in the normal spot behind the neck. I didn't buy the guitar to look at it, I bought it to play it. The pickups are hotter than any other P90s that I have. I have no idea why they were set so high when I took it out of the case. The pickup and screws were raised way too high, almost to the point of a string touching them when fretted. That's easy to fix and I like the chrome covers. And it does sound great, it really does.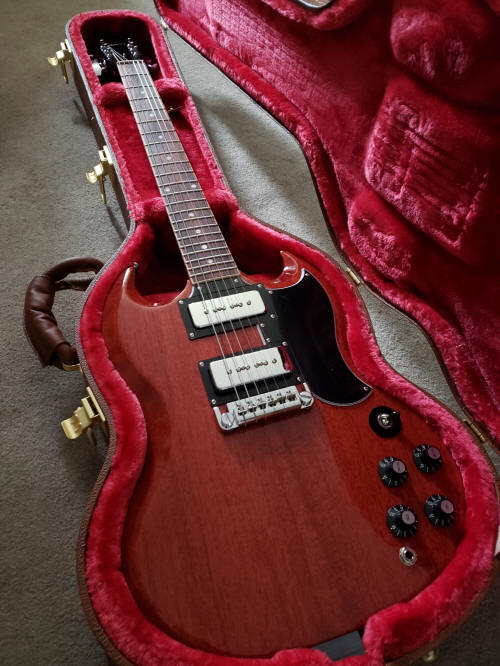 The guitar is not without its problems, so if you're thinking about getting one, expect the strings to be a little high. I saw a customer review (after I bought mine and waiting for it to come in) and sure as shit, he was right. Which is a shame because it's not a cheap guitar. I took the guitar to Jay at LaSalle Music to have him install a ZeroFret nut (Tony's replica even had a zero-fret) and while he did that, I asked if he could file down the grooves in the saddles to bring the strings down. The bridge you can find on Amazon for about $20 so it's nothing special is something went sideways. I tried the same compensated tailpiece that's on my
SG Junior
, but the Iommi bridge studs are level and not adjusted to go on an angle like on a Junior, so the high E was still a little flat. I tried to like the "modified" tailpiece but I still found the strings too high. Currently it's using the same tailpiece I orginally put on the 56 Junior (see pic). I went through a lot of strings trying different bridges and I really shouldn't have had to. After all that work done to it, it's finally great. I didn't get a Monkey Sticker. I heard they're selling them on eBay though. I wouldn't be surprised if some Gibson employee stole a bunch of stickers to sell them. It doesn't really bother me though since it's a dumb looking sticker and it would never leave the case. Sorry, Tony. I guess this would also be my first artist guitar and probably my last guitar, unless I start playing out again. Not that I would take this out to a bar but the way prices are going up on all guitars, it will be a long while until I buy another Gibson. These are new still, so is it worth buying one of these? Not at the current price, unless you don't mind high strings. For the price paid, it should have been supreme right out of the box but it wasn't and it took me another 6 months to have it play great.
------------------
Changes:

Volume/Tone knobs switched to top-hats; Zerofret installed;
bridge saddle grooves filed; strap button installed on back.



2021 Gibson Tony Iommi SG Special

Serial No: 228410076
Price paid: $2800 Cnd (before tax); Bought new 2021; HSC

Body
Body Type: Solidbody Body; Shape: Tony Iommi SG Special
Body Material: Mahogany Body; Finish: Gloss Nitrocellulose Lacquer; Color: Vintage Cherry

Neck
Neck Material: Mahogany
Neck Shape: Rounded Neck
Joint: Set Neck
Radius: 12" Fingerboard
Material: Indian Rosewood; Fingerboard Inlay: Acrylic Dots;
Number of Frets: 22, Medium Jumbo; Scale Length 24.75"
Nut Width: 1.695"; Nut Material: Graph Tech NuBone

Hardware
Bridge/Tailpiece: Adjustable Bridge with Wraparound Tailpiece; Tuners: Grover Rotomatics

Electronics/strong>
Neck Pickup: P-90 Single-coil; Bridge Pickup: P-90 Single-coil; Controls: 2 x volume, 2 x tone
Switching: 3-way toggle pickup switch

Miscellaneous
Strings Gibson, .010-.046 Case/Gig Bag Softshell Case Manufacturer Part Number: SGTI21VECH1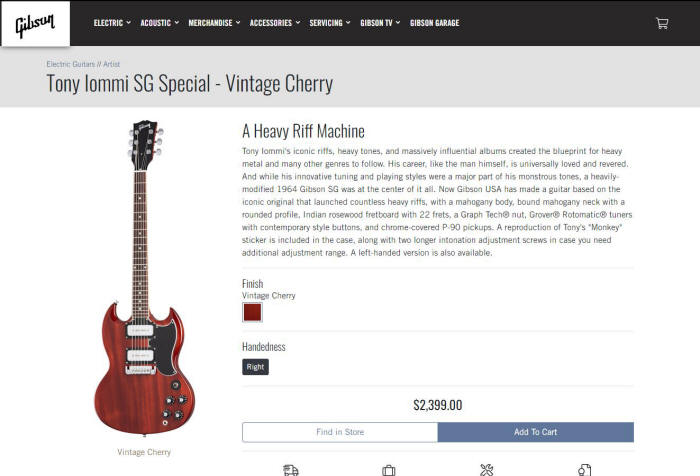 Last heard (left,right and lead guitars):
Back to Guitars