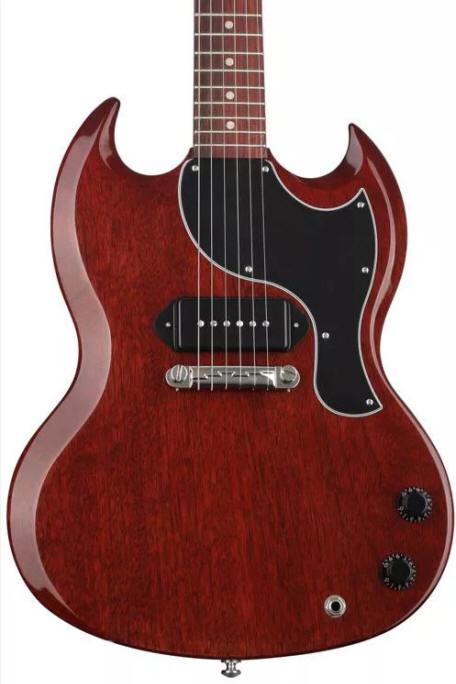 "An Essential Favorite
The newly refreshed SG Junior returns with a more accurate 60s classic design that made it relevant, played and loved -- shaping sound across generations and genres of music. Initially introduced in the early 60's as a student model, the SG Junior has been embraced by musicians for almost 60 years. The rich, Vintage Cherry lacquer finish, early 60's neck joint and sharp vintage body scarfing are hallmarks of this model. It's equipped with the powerful single dogear P-90 pickup with handwired controls and an orange drop capacitor. The Vintage Deluxe style tuners with white buttons and compensated wraparound bridge also contribute to simplicity, function and rock-solid tone."
------------------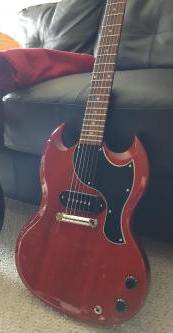 I know what I said after buying my Les Paul Traditional that I wouldn't buy a new Gibson again, but management changed and watching Trogly's Guitar Show, and him saying how good the newer models are, I thought I'd take a chance on a new model myself, especially since they reissued the SG Junior. I wanted an SG Junior for the longest time because I think it's the coolest looking SG out of all the models. They had a reissue maybe 10 years ago but the knobs were in the wrong spot. Then they had a 2018 model that had the knobs in the right place but it had a script font for "Gibson". So when the original collection came out in 2019 with an SG Junior in the line up, knobs in the right spot, a normal logo on the headstock and the new bevels, I wondered, "How much?" And it was Birthday time, so that's how I justified it. It's the first time I had a guitar with a "Slim Taper" neck, but I don't find it slim. I find it wider than slim but it's still comfortable. I just have to play it for a bit to get used to it. I will say that neck profile is great for playing things above the 12th fret. Don't be surprised when I say I already knew what I was going to change some things once I got it. The pickguard had to be changed. I don't like the newer, smaller pickguards. They make the guitar look kinda cheap. Same with the knobs, so I changed them to the normal Tophat knobs with the silver foil tops (and pointers too). I had the small bell knobs on a Les Paul Special and I didn't like them because they were a bit stubby. The tailpiece, which had a regular stopbar, surprisingly intonated very well. I still switched it out with a compensated tailpiece that was in my Epiphone SG 61 Special. I know. It shouldn't fit but it does. I got a Junior pickguard from Reverb, and if you're going to do the same thing to yours, the screwholes don't line up.. at all... with anything exisiting. So don't be surprised if you're going to do what I did. I waited until the guitar was paid off until I got the drill out. In the meantime, it was being held on by Scotch tape. Scotch tape is better than you think. And it came with a hardshell case.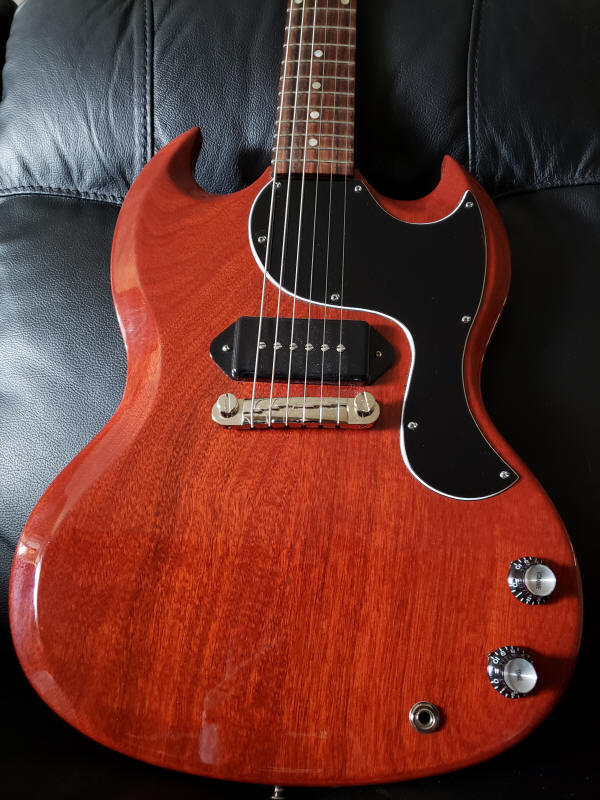 So I highly recommend getting one of these things even though it's a little pricey for a one pickup guitar. And it's the Junior's fault that got me back into SGs and buying Gibsons again. Well, until the latest price hike.
Changes:

Pickguard, tailpiece, knobs



2019 Gibson SG Junior (Vintage Cherry)

Serial No: 121990261
Price paid: $1800 Cnd Bought new 2019; HSC


Finish Available: Vintage Cherry

Details

Body: Mahogany
Neck: Mahogany
Profile: Slim Taper
Nut width: 1.695" / 43.05mm
Fingerboard: Rosewood
Scale length: 24.75" / 628.65mm
Number of frets: 22 • Nut: Graph Tech • Inlay: Acrylic Dots
Bridge: Wraparound
Knobs: Black Top Hats
Tuners: Vintage Deluxe w/ White Buttons
Plating: Nickel
Bridge pickup: P-90 Dog Ear
Controls: 1 Volume, 1 Tone (Hand-wired with Orange Drop Capacitors)
Case: Gibson Hard Shell




After all is said and done, this ended up being one of my surprisingly better purchases. It's a joy to play.
Back to Guitars