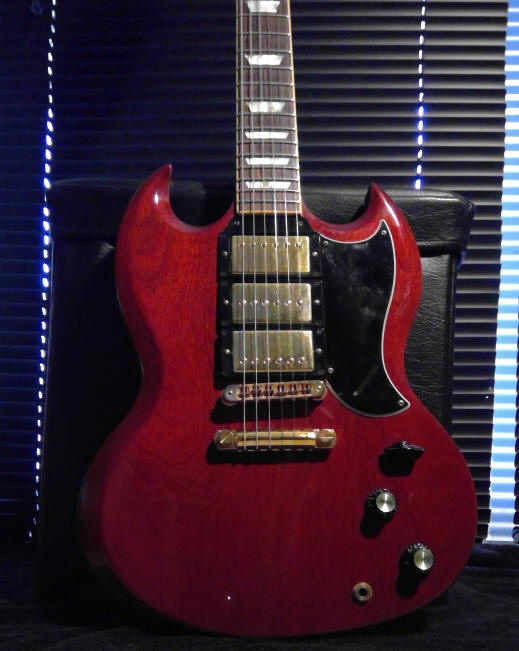 "The SG-3 pushes the power, sustain, and tonal range of Gibson's legendary SG into new sonic dimensions. Equipped with a revolutionary 6-way pickup switch and three gold-plated Gibson humbuckers—a pair of '57 Classics in the neck and middle positions, and a '57 Classic Plus in the bridge position—the SG-3 goes where no SG has gone before. Sporting a chicken-head knob, Gibson's exclusive rotary selector offers six pickup settings: bridge, bridge/middle, middle, middle/neck, neck, and bridge/neck. Combining unrivaled playability with an extraordinary spectrum of sweet, yet scorching humbucker tones, the SG-3 is the perfect guitar for rock, metal, and blues guitarists."
------------------
Depending on where you read, there was a run of 400, or a run of 250 in Cherry (C ###) and 250 in Ebony (E ###). The only thing people can seem to agree on is that the gold numbered ones were issued first and then the 9 digit serial numbers came out afterwards. Also, to make things trickier to decipher is there were two Guitar of the Week SG3s with one having single coil pickups. This wasn't my first SG but now it's my go-to guitar. After over 10 years of playing a Les Paul, I bought my first SG back in 2001 and it was a Classic with P90s, in red. What a great guitar that was. In 2002, I bought an SG Standard in a then-limited Naturalburst finish. Spoiler alert: it wasn't so limited. Both are gone now but in 2009, I treated myself to an SG-3 (I used my Taylor 310 as a down payment). I really didn't fully appreciate this guitar until I started playing out again a couple of years ago. I've heard that SGs are flimsy and never stay in tune. This isn't like that. Actually, none of my SGs feel flimsy or can't hold their tuning. I find people who say that are the ones that bend the neck for vibrato. Pro Tip: don't do that, on any guitar. I mainly bought this to be my 3 pickup guitar since I didn't (and still don't) have a Strat and also to take to gigs as a spare. Even better, it's a 6 way switch so you get all your pickup combinations except for all on. Since it was a 2000s guitar, I did the same trick as I did with my Studio and switch the tone pot with the volume pot to get a better volume sweep. The back pickup (57 Classic Plus) got replaced with a normal 57 Classic. And if you're curious, yes, the inbetween positions (2 and 4) are pretty muddy which makes sense combining two humbuckers. Clean, it's OK; dirty, it looses the Strat cluck. I thought if I put a single coil in the middle position that it might clean things up and it does. I put a Seymour Duncan Phat Cat in, new pots and did the 50's wiring to it.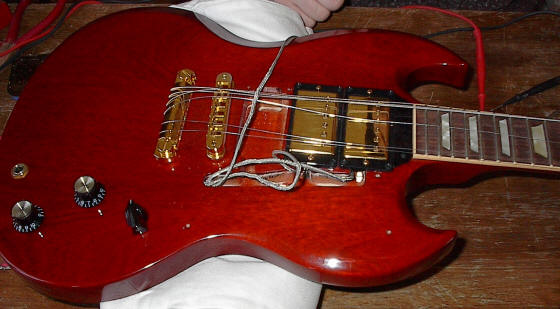 I noticed that I would start to record with it more and more. The frets on my
Studio
were starting to pit and this was my only other humbucker guitar until I bought a
Traditional
in 2014. Then I started to really enjoy using the back pickup, and as I got older and lazier, it's more comfortable for sitting down and playing. An SG is way more comfortable to play sitting down than a Les Paul and that's just because of where the guitar's waist is. It sits on the legs better. Standing up, the SG is more comfortable because of its weight. Even though I'm used to it and like it, some people might not like the strap button behind the neck join, which is the main culprit for neck diving. It's a weird adjustment from playing Les Pauls but it's worth it.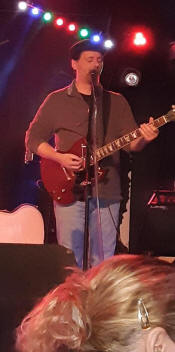 Other modifications were a refret and then having a ZeroGlide Zero Fret put in. Obviously, I'm not going to do that kind of thing unless I want it done wrong, so Jay (Swatman) did that as well, and when I took the guitar in, I asked if we could put the back pickup out of phase. I thought he was just going to swap the hot and ground wires, but, no. He went one step further and flipped the magnet around. Nice. So now, sound-wise, the guitar is more like an original SG Custom (and more). Original SG Customs had the middle pickup out of phase, so in the middle position, when the middle and back are both on, it wasn't the "strat" sound. It's more like the Peter Green sound, only weedier. I can see why people didn't like that back then and I'll be honest, I haven't recorded anything with that sound. Speaking of Peter Green, I can get that sound now too. So now it sounds like:
Position 1: Neck pickup sounds like SG Front Pickup
Position 2: Neck and Middle pickups. Sounds like a front pickup and middle pickup
Position 3: Middle pickup. Sounds like a Strat middle pickup
Position 4: Middle and Back pickups together. Sounds like an old 3 pickup Custom in its middle toggle switch position
Position 5: Back pickup. Sounds like a back pickup
Position 6: Back and Neck pickups together. Sounds like Peter Green if he played my guitar If I started gigging again, this would have to stay home because of how irreplacable it is now. As far as recording, it's been on every CD/album I put out since 2009's Blind Date and in recent years, I probably use the SG more than a Les Paul. I think the only problems with the SG3 are finding wiring schematics for the 6 way switch. It gets rusty, depending on humity but a couple of flicks and it's OK. Anyways, if I ever had to unload a bunch of guitars, this would be last or second last to go. Since I'm an out-of-sight-out-of-mind person, I have to put it back in the case so the other guitars get played. I would love a second one but the people who are selling these on Reverb are off their nut. It's not a $4400 guitar. Honest. $2000 is more than fair for a 15 year old used guitar.
------------------
Changes:

Back pickup now has a 57 Classic, magnet reversed later;
Middle pickup is a Seymour Duncan Phat Cat;
pots replaced; zerofret installed; refret



2007 Gibson SG3

Serial No: C 217
Price paid: Don't remember but it was under $2000 Cnd (after tax);
Bought new 2009; HSC

BODY
Body Style: Mahogany Body Species: Mahogany

NECK
Species: Mahogany Profile: SG Nut Width: 1.695" Neck Joint Location: 19

FINGERBOARD
Species: Rosewood Scale Length: 243/4" Number of Frets: 22 Inlays: Trapezoid Fingerboard Binding: Antique

HARDWARE
Plating Finish: Gold Tailpiece: Stop Bar Bridge: Tune-O-Matic Knobs: Black Top Hat with gold inserts Machine Heads (Tuners): Green Key

ELECTRONICS
Neck Pickup: '57 Classic Gold humbuckers
Middle Pickup: '57 Classic Gold humbuckers
Bridge Pickup: '57 Classic Plus Gold humbuckers
Controls: One volume, one tone, pickup select rotary switch with 6 position dial pointer

OTHER
Strings: Brite Wires .010-.046 CASE Case Interior: White Plush Case Exterior: Black Reptile Pattern Hardshell Case Silkscreen: Silver 'Gibson USA' logo










Last heard: In Memory (all guitars)
Back to Guitars